Whitworth Fine Thread DIN 30284 and DIN LON (30)293
Attention!
Please do not mistake this thread for the Whitworth Fine Thread BS 84. This thread is an old one which is not used anymore. The nominal diameter and the pitch are mentioned in millimeters or in TPI.
Used in locomotive construction approx. until 1975.
The thread angle is 55°.
Repair sizes for locomotive construction, DIN 30284.
Diameter for bolt and nut
Thread Size
Tapping Drill Size
mm
Core Area
cm2
TPI
Pitch
mm
W 14 x 1/12" DIN 30284
11.290
1.00
12
2.117
W 15 x 1/12" DIN 30284
12.290
1.18
12
2.117
W 17 x 1/11" DIN 30284
14.042
1.54
11
2.309
W 18 x 1/11" DIN 30284
15.042
1.77
11
2.309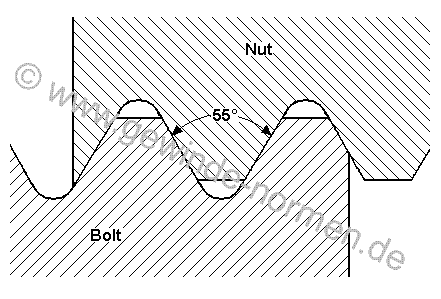 Special thread for fire extinguishing fittings DIN LON 293
Diameter for bolt and nut
Thread Size
Tapping Drill Size
mm
Core Area
cm2
Pitch
mm
Sg 56 x 3.75 LON 293
52.50
21.64
3.75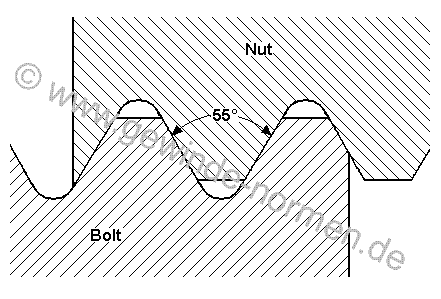 Anzeige: