Whitworth Fine Thread 2 DIN LON 287, 6 TPI
Attention!
Please do not mistake this thread for the Whitworth Fine Thread BS 84. This thread is an old one which is not used anymore. The nominal diameter and the pitch are mentioned in millimeters or in TPI.
Used in locomotive construction approx. until 1975.
The thread angle is 55°.
Diameter for bolt and nut
Thread Size
Tapping Drill Size
mm
Core Area
cm2
TPI
Pitch
mm
W 60 x 1/6" LON
54.58
23.40
6
4.23
W 64 x 1/6" LON
58.58
26.95
6
4.23
W 68 x 1/6" LON
62.58
30.76
6
4.23
W 72 x 1/6" LON
66.58
34.82
6
4.23
W 76 x 1/6" LON
70.58
39.12
6
4.23
W 80 x 1/6" LON
74.58
43.69
6
4.23
W 84 x 1/6" LON
78.58
48.50
6
4.23
W 89 x 1/6" LON
83.58
64.87
6
4.23
W 94 x 1/6" LON
88.58
61.63
6
4.23
W 99 x 1/6" LON
93.58
68.78
6
4.23
W 104 x 1/6" LON
98.58
76.33
6
4.23
W 109 x 1/6" LON
103.58
86.26
6
4.23
W 114 x 1/6" LON
108.58
92.60
6
4.23
W 119 x 1/6" LON
113.58
101.44
6
4.23
W 124 x 1/6" LON
118.58
110.44
6
4.23
W 129 x 1/6" LON
123.58
119.95
6
4.23
W 134 x 1/6" LON
128.58
129.85
6
4.23
W 139 x 1/6" LON
133.58
140.14
6
4.23
W 144 x 1/6" LON
138.58
150.83
6
4.23
W 149 x 1/6" LON
143.58
161.91
6
4.23
W 154 x 1/6" LON
148.58
173.39
6
4.23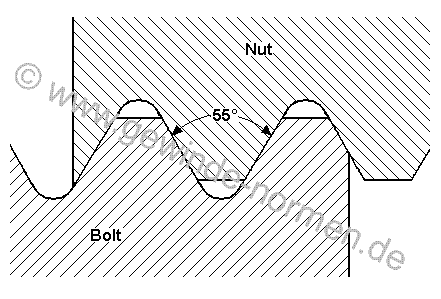 Anzeige: