UNC Thread ANSI/ASME B1.1
UNC - Unified Coarse Thread. The old definition NC is comparable with the metric thread. The new term UNC is comparable with the ISO metric thread. NC and UNC threads are interchangeable, in an analogous manner like the metric and the ISO metric thread.
The thread angle is 60°.
Nominal
Diameter
Major
Diameter
Inch
Major
Diameter
mm
Tapping
Drill Size
mm
TPI
Pitch
mm
#1 - 64 UNC
0.073
1.854
1.50
64
0.397
#2 - 56 UNC
0.086
2.184
1.78
56
0.453
#3 - 48 UNC
0.099
2.515
2.05
48
0.529
#4 - 40 UNC
0.112
2.845
2.27
40
0.635
#5 - 40 UNC
0.125
3.175
2.59
40
0.635
#6 - 32 UNC
0.138
3.505
2.77
32
0.794
#8 - 32 UNC
0.164
4.166
3.42
32
0.794
#10 - 24 UNC
0.190
4.826
3.82
24
1.058
#12 - 24 UNC
0.216
5.486
4.47
24
1.058
1/4" - 20 UNC
0.250
6.350
5.11
20
1.270
5/16" - 18 UNC
0.313
7.938
6.55
18
1.411
3/8" - 16 UNC
0.375
9.525
7.95
16
1.587
7/16" - 14 UNC
0.438
11.112
9.30
14
1.814
1/2" - 13 UNC
0.500
12.700
10.73
13
1.954
9/16" - 12 UNC
0.563
14.288
12.15
12
2.117
5/8" - 11 UNC
0.625
15.875
13.53
11
2.309
3/4" - 10 UNC
0.750
19.050
16.46
10
2.540
7/8" - 9 UNC
0.875
22.225
19.34
9
2.822
1" - 8 UNC
1.000
25.400
22.15
8
3.175
1 1/8" - 7 UNC
1.125
28.575
24.87
7
3.628
1 1/4" - 7 UNC
1.250
31.750
28.05
7
3.628
1 3/8" - 6 UNC
1.375
34.925
30.60
6
4.233
1 1/2" - 6 UNC
1.500
38.100
33.70
6
4.233
1 3/4" - 5 UNC
1.750
44.450
39.26
5
5.080
2" - 4 1/2 UNC
2.000
50.800
45.03
4.5
5.644
2 1/4" - 4 1/2 UNC
2.250
57.150
51.38
4.5
5.644
2 1/2" - 4 UNC
2.500
63.500
57.00
4
6.350
2 3/4" - 4 UNC
2.750
69.850
63.36
4
6.350
3" - 4 UNC
3.000
76.200
69.71
4
6.350
3 1/4" - 4 UNC
3.250
82.550
76.06
4
6.350
3 1/2" - 4 UNC
3.500
88.900
82.41
4
6.350
3 3/4" - 4 UNC
3.750
95.250
88.76
4
6.350
4" - 4 UNC
4.000
101.600
95.11
4
6.350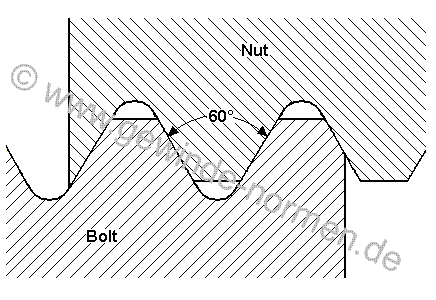 Anzeige: