Whitworth Tapered Pipe Thread DIN EN 10226-1, DIN EN 10226-2 formerly known as DIN 2999
BSPT (British Standard Tapered Pipe)
Whitworth Pipe Thread for pipes and fittings. Parallel female thread and tapered male thread (taper 1 : 16).
An appropriate sealing compound can be used in the thread to ensure a leak-proof joint.
The thread angle is 55°.
Male Thread
Diameter
Female Thread
Diameter
Pipe Minor
Diameter
mm
Pipe Major
Diameter
mm
Tapping
Drill Size
mm
TPI
Pitch
mm
R 1/16"
Rp 1/16"
3
7.723
6.561
28
0.907
R 1/8"
Rp 1/8"
6
9.728
8.566
28
0.907
R 1/4"
Rp 1/4"
8
13.157
11.445
19
1.337
R 3/8"
Rp 3/8"
10
16.662
14.950
19
1.337
R 1/2"
Rp 1/2"
15
20.955
18.631
14
1.814
R 3/4"
Rp 3/4"
20
26.441
24.117
14
1.814
R 1"
Rp 1"
25
33.249
30.291
11
2.309
R 1 1/4"
Rp 1 1/4"
32
41.910
38.952
11
2.309
R 1 1/2"
Rp 1 1/2"
40
47.803
44.845
11
2.309
R 2"
Rp 2"
50
59.614
56.656
11
2.309
R 2 1/2"
Rp 2 1/2"
65
75.184
72.226
11
2.309
R 3"
Rp 3"
80
87.884
84.926
11
2.309
R 4"
Rp 4"
100
113.030
110.072
11
2.309
R 5"
Rp 5"
125
138.430
135.472
11
2.309
R 6"
Rp 6"
150
163.830
160.872
11
2.309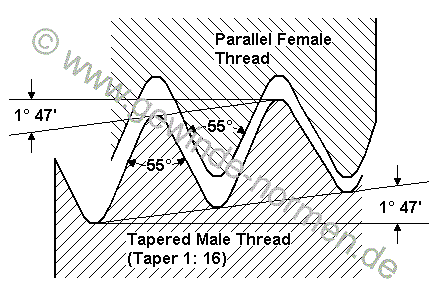 Anzeige: