Dairy coupling DIN 11851
A pipe coupling for foods and chemistry according to DIN 11851, colloquially also called "Dairy Thread". It consists of a special clutch thread, the metric round thread according to DIN 405, which has coarse, rounded thread edges and is thus easy to clean. These pipe couplings are commonly used in the food industry.
The thread angle is 30°.
Nominal
Diameter
Thread Size
Nominal
Diameter
mm
Bolt Thread
Minor Diameter
mm
Nut Thread
Minor Diameter
mm
Pitch
mm
TPI
DN 10
Rd 28 x 1/8"
28.318
24.825
25.142
3.175
8
DN 15
Rd 34 x 1/8"
34.318
30.825
31.142
3.175
8
DN 20
Rd 44 x 1/6"
44.423
39.767
40.190
4.233
6
DN 25
Rd 52 x 1/6"
52.423
47.767
48.100
4.233
6
DN 32
Rd 58 x 1/6"
58.423
53.767
54.190
4.233
6
DN 40
Rd 65 x 1/6"
65.423
60.767
61.190
4.233
6
DN 50
Rd 78 x 1/6"
78.423
73.767
74.190
4.233
6
DN 65
Rd 95 x 1/6"
95.423
90.767
91.190
4.233
6
DN 80
Rd 110 x 1/4"
110.635
103.650
104.285
6.350
4
DN 90
Rd 120 x 1/4"
120.635
113.650
114.285
6.350
4
DN 100
Rd 130 x 1/4"
130.635
123.650
124.285
6.350
4
DN 125
Rd 160 x 1/4"
160.635
153.650
154.285
6.350
4
DN 150
Rd 190 x 1/4"
190.635
183.650
184.285
6.350
4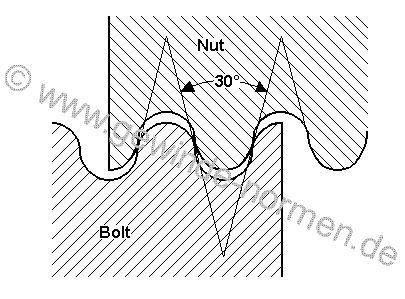 Anzeige: